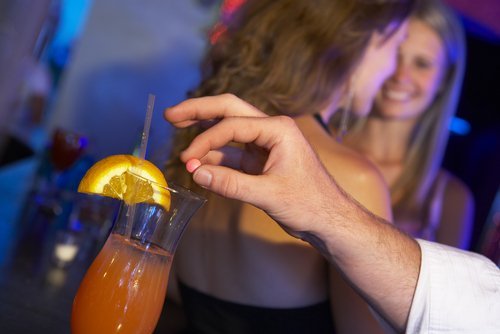 The United States has a serious problem with date rape. Women that attend college have a 5% chance of being raped, a recent study has found. Rape victims often know their assailant. The victim knows their attacker in as many as 60% of all reported rapes. So being assaulted by someone you are at least acquainted with is a real possibility. Rape is perpetrated with the use of a date rape drug more often than not. Although most date rape drugs are illegal, it doesn't stop criminals from getting their hands on them.
The administering of any date rape drug makes it impossible to consent to sex. Therefore, any sex that happens after a drug is given unknowingly to a victim is considered rape. Today we will take a look at all the date rape drugs. The more you know, the better protected you can be.
Date Rape Drugs: Rohypnol
The most common date rape drug is Rohypnol. Also, know as roofies, this is a powerful depressant. This date rape drug is illegal in the U.S., but it is still sold in Europe and Latin America. Rohypnol is brought into the country by smugglers and is sold on the street. Roofies are very inexpensive. This makes them easy to obtain and use on an unsuspecting victim.
Doctors prescribe Rohypnol to people with insomnia. Because of its sedative effects, it puts people to sleep. Rohypnol produces similar effects to alcohol. To someone without experience, it may seem as though the victim is just intoxicated. Putting Rohypnol in a drink makes it undetectable. The date rape drug has no odor or taste. This makes it a date rape drug of choice for rapists.
Date Rape Drugs: GHB
GHB which is short for gamma hydroxybutyric acid is another common date rape drug. In the past doctors used GHB to treat anxiety and childbirth problems. However, the government made GHB illegal in the U.S. in the 90's. Becuase the drug slows the brain and body it was easy to overdose and abuse. In small doses, it produces mild sedation, slowed heart and breathing rates. This may the most dangerous of all date rape drugs. If someone puts a little too much into your drink, it could lead to an overdose or even death.
GHB is colorless and odorless. However, GHB does have a salty taste. This could allow you to detect the presence of GHB in your drink. GHB also can cause memory loss which makes it difficult to recall what happened while under the influence of the drug. This makes prosecution of date rape charges more difficult.
Date Rape Drugs: Ketamine
Doctors use Ketamine for anesthesia. Ketamine provides pain relief, sedation, and even memory loss. This makes Ketamine a date rape drug. This date rape drug is also colorless and odorless. However, just like GHB, it has a strong taste. Ketamine has a strong bitter flavor that you may be able to taste in your drink.
Ketamine is a dangerous drug. Too much can cause a fatal overdose. The loss of memory also makes it difficult to prosecute date rape charges.
Date Rape Drugs: Alcohol
Many people think that alcohol isn't a date rape drug, but they are wrong. Alcohol is a natural depressant. A few drinks can lower your inhibitions and motor skills. It becomes easier for someone to take advantage of you if you are intoxicated. Too many drinks can put you in a dangerous situation. Alcohol is legal, and therefore it isn't tagged with the date rape drug name, but it is used more commonly than all of the other drugs listed. Protect yourself by limiting alcohol intake. Sober people can make much better decisions.
Protecting Yourself
First, rape is NEVER the victim's fault. Unfortunately, we live in a world where it is a real possibility, and you should do everything in your power to protect yourself. Knowing what to do, could save you from a terrible experience.
Don't accept drinks from other people.
Always keep your drink with you, even when going to the bathroom.
Go out in groups. Having someone with you could help you.
If someone offers you a drink, go with them and get it yourself.
If you feel like you've been drugged or are more intoxicated than you should be, get help immediately.
Don't drink anything that tastes or smells bad.
We all have a part to play in preventing rape. If you are out and see someone that seems like they could be a target of date rape say something. Don't let the person leave with anyone. Call them a cab and make sure they get home safe. You could make a great difference in someone's life by not sitting around and "minding your own business." Rape is a serious epidemic, and we all need to do our part to protect each other, even if we don't know the victim.
If you have been involved or falsely accused of date rape please contact the Rhode Island Date Rate Defense Attorneys at the Law Office of John E. MacDonald, Inc.