In December of 2022, John E. MacDonald published the 10th edition of Rhode Island Criminal Defense, A Practice Manual.
The first edition of this manual was first published over 20 years ago and continues to be updated with the information that active criminal defense lawyers in Rhode Island need.
This manual is considered a vital addition to any serious criminal lawyer's collection and is requested by trial judges and prosecutors throughout Rhode Island.
"…This manual contains a summary of the important cases and court rules touching upon every major procedural facet of criminal defense representation in Rhode Island District and Superior state courts. From arraignment to appeal, you will find the essential cases, statutes, practice tips and form motions. Also included is a summary of the elements, penalties and potential immigration consequences for the vast majority of Rhode Island criminal offenses…"

John. E. MacDonald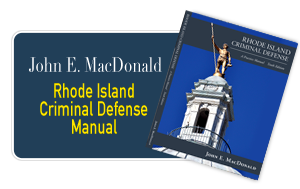 Download your free copy now.