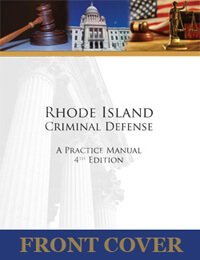 RHODE ISLAND CRIMINAL DEFENSE
A Practice Manual, 4th Edition
© John E. MacDonald
DISCOVERY VIOLATIONS
Late Disclosure
State v. Scurry, 636 A.2d 719 (R.I. 1994). During trial, the state disclosed for the first time a B.C.I. rap sheet for a defense witness. Based upon the B.C.I., defense decided not to call a critical corroborating witness. The B.C.I. was later determined to belong to another person. R.I.S.C. ordered a new trial.
"Due process requires that every defendant have ample and sufficient opportunity to establish the best and fullest defense available.it is imperative that defendants come to trial as well-prepared as possible to raise reasonable doubt in the minds of one or more jurors." Id. at 725.
".we have consistently condemned the untimely disclosure of extensive discovery material just prior to trial or in the midst of trial. Such disclosure not only makes the task of defense counsel difficult, it also reduces counsel's effectiveness by forcing changes in defense strategy mid trial." Id. at 725.
Here, the mid-trial presentation of the wrong B.C.I. denied defendant a crucial opportunity to present the best and fullest defense.
State v. Olson, 610 A.2d 1099 (R.I. 1992). On the second day of trial, the state mentioned in a chambers conference the existence of inculpatory phone calls made by defendant to a state witness. The state had not disclosed the specific content of these calls but had made reference to them in a discovery answer. Defendant was offered a continuance but rejected it.
While the state should have elaborated the content of these conversations in its discovery response, the state's answer still put defendant on notice about these calls. Therefore no prejudice to defendant.
By not accepting a continuance, the defendant undercut his argument that he was prejudiced by the state's non-disclosure. Lesson: If in doubt, ask for a continuance.
State v. Coelho, 454 A.2d 241 (R.I. 1982). The defendant in an embezzlement case was forced to go to trial despite the state's 11th hour compliance with discovery. R.I.S.C. ordered a new trial. See also, Continuances.
Trial court must consider what is "right and equitable under all circumstances and the law" in the wake of discovery violations. Id. at 245.
Test to use in determining the need for a continuance based upon untimely discovery:
Reason for nondisclosure;
Extent of prejudice to opposing party;
Feasibility of rectifying prejudice by continuance;
Any other relevant factors. Id.
In light of these factors, trial court's refusal to grant even a brief continuance was an abuse of discretion.
State v. Simpson, 595 A.2d 803 (R.I. 1991). In an attempted murder trial, the state failed to disclose to defense counsel until after trial commenced about a negative gunshot residue testing from defendants' hands. The trial court denied a request for a mistrial. R.I.S.C. ordered a new trial.
The production of these test results in the midst of trial "completely distracted defense counsel from their former strategic plans to present to defense."
Trial lawyers must be able to adapt strategy to evolving circumstances. However, very few trial lawyers are superhuman. When, because of a failure to furnish discovery on the part of the state, a highly significant piece of information, hitherto unexpected, becomes available and when that information has a potential to alter the course of the defense completely, counsel is reasonably entitled to an effective remedy. The remedy may either be a mistrial or a continuance of sufficient duration to seek expert testimony of their own choosing and to reevaluate all the discovery material that may have a bearing upon use of that information. To require that this be done in the heat and hurly-burly of the trial process is to place a burden upon counsel, that, as illustrated in this case, can scarcely be successfully borne." Id. At 808.
Call the Attorneys at The Law Offices of John E. MacDonald, Inc. at 401-421-1440 or EMAIL us today.
© John E. MacDonald. All Contents Copyright 2004-2011 John E. MacDonald. All Rights Reserved.
The contents of all material available on this Internet site www.AggressiveLegalServices.com are copyrighted by John E. MacDonald. ALL RIGHTS RESERVED. All rights are reserved by John E. MacDonald, and content may not be reproduced, downloaded, disseminated, published, or transferred in any form or by any means, except with the prior written permission of John E. MacDonald.